Iceland - Carbon Capture Technology
With active volcanoes, melting glaciers, and a commitment to renewable energy, Iceland is both experiencing the ongoing impacts of climate change and sitting at the cutting edge of the development of new ideas and innovative solutions to solve climate change. You'll have a chance to trek on glaciers, soak in thermal pools, hike to soaring waterfalls, and dive into climate science, the uniqueness of Iceland's geology, geoengineering projects, and cutting-edge technological solutions that have the potential to transform power systems globally in this singular island nation. 
Starting in Reykjavik, meet with researchers, leaders, and activists who are pushing Iceland forward. Visit the geothermal power plant that generates most of the city's energy, where a carbon sequestration project is gathering steam. Tour a forest restoration project that's working to bring back the nation's long-lost tree cover and offset Reykjavik's carbon footprint. Then head out to the wild Snæfellsnes Peninsula, a microcosm of Iceland, where the glacier is expected to disappear by 2050. Learn directly from Columbia Climate School climate scientists and engineering experts about the challenges and opportunities that lie ahead.
Carbon capture has been identified as an integral technology that is critical for achieving climate policy objectives and supporting global energy security. Travel across Reykjavik, the Golden Circle, and the Snæfellsnes Peninsula with Columbia Climate School scientists who are lead innovators in cutting-edge global projects that are at the forefront of carbon capture technology. 
Learn alongside scientists who have been involved in the Carbfix project, a one-of-a-kind academic-industrial partnership that has developed a groundbreaking approach to inject CO2  captured in water and into basalt rock. Over time, the injected CO2 reacts with the basalt and forms carbonate, and offers us a safe and long-term storage option for captured gas. With the scale-up of this technology, this means we can potentially pump large amounts of CO2 and store it in a very safe way over a short period of time. This groundbreaking technology has significant implications for the future, particularly for areas where basalt rock is prevalent. 
At the end of the Iceland experience, students will walk away with a stronger understanding of the science behind this geoengineering strategy, how it could be expanded, and how it could be a disruptive technology that allows us to address current carbon dioxide challenges in the Earth's atmosphere. 
Program Length: 13 days
Program Dates: July 20 - August 1, 2023
Program Fee: $8,290
Program Capacity: 16 students, 2 Putney Student Travel leaders, 2 Columbia Climate School experts 
Locations: Reykjavik, Snæfellsnes Peninsula
Putney Student Travel experience in this destination: Putney Student Travel has offered Iceland programs for both Middle and High School students on at least four different itineraries every year since 2007, including programs with New York Times Student Journeys and National Geographic Student Expeditions.
Highlights
Go behind the scenes at a geothermal power plant to witness first-hand how Iceland is leading carbon capture projects through international partnerships
Straddle two tectonic plates at Thingvellir National Park and learn about how Iceland's majestic landscapes are shaped by active plate tectonics, glacial movement, and volcanoes
Scout for puffins, whales, and seals as you kayak through pristine waters
Learn directly from geoengineers, volcanologists, glaciologists, and foresters who are working collaboratively to generate solutions to address atmospheric CO2 challenges
Walk away with a better understanding of how carbon capture technologies work, how they will allow us to adapt to climate change and mitigate adverse impacts, and how they can inform our decision-making
Hone in on future career possibilities in fossil and renewable energy generation, power distribution, environmental policy, and so much more
Columbia Climate School Experts
David Goldberg is a Lamont Research Professor at Lamont-Doherty Earth Observatory, the Deputy Director of Lamont-Doherty Earth Observatory of the Columbia Climate School, a core faculty member for the Lenfest Center for Sustainable Energy, and a Lecturer in the Sustainability Science Program at Columbia University. His interests focus on the integration of different technologies and cross-disciplinary approaches to develop achievable climate solutions. He conducted postdoctoral studies at the Institute Français du Petrole in Paris and has been at Lamont-Doherty since 1985. He has acted as Principal Investigator on many collaborative research projects, including recent multinational carbon management studies, and been directly involved with various scientific drilling programs.  He also currently serves Goldberg continues to advise graduate and post-graduate research in carbon management, scientific drilling, and related topics. Goldberg received his undergraduate and MS degrees in earth and planetary sciences from the Massachusetts Institute of Technology, and his doctorate in geophysics and an MBA from Columbia University.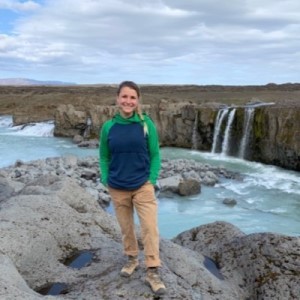 Claire Nelson is a postdoctoral research scientist at Lamont Doherty Earth Observatory. Her research focuses on carbon storage in basalt, which speeds up the natural basalt weathering process to turn CO2 into a solid form. This geoengineering strategy has the potential to play an important role in mitigating the effects of climate change by permanently removing CO2 from the atmosphere and storing it underground. Claire's upbringing inspired her to pursue her current career path. She spent the first 8 years of her life around the Columbia River Gorge, Oregon before moving to a small island, Culebra, off the coast of Puerto Rico. Because of her good fortune of spending most of her young life outdoors, she was instilled with a deep connection with and curiosity towards the natural world. This passion blossomed at in college as she was heavily involved in environmental activism. Claire has also spent time teaching science and leading backpacking and canyoneering trips both in Leadville, Colorado, and on Mt. Adams in the North Cascades. She completed her Bachelors in Geology at Union College in upstate New York and a PhD at Northwestern University, where her research was focused on basalts in Iceland.
Itinerary
Days 1-5: Reykjavik & The Golden Circle 
Begin your trip in Reykjavík, the world's northernmost capital, with an in-depth program orientation and get to know your fellow travelers and group leaders. Explore Reykjavík's eclectic cafes, and visit the ruins of a Viking household excavated downtown. Then head east into the interior highlands and travel the iconic Golden Circle. Go behind the scenes with geologists at the Hellisheidi Power Plant to learn how Iceland harnesses geothermal energy for sustainable living. Visit the thundering Gullfoss waterfall, walk between two tectonic plates at Thingvellir National Park, and witness the steaming eruptions at Geysir. 
Days 6-11: Snæfellsnes Peninsula
As you journey north, make a hiking pit stop at Glymur, one of the country's highest waterfalls, then explore the black-sand beaches of Djupalon and Dritvik to learn the stories of the ancient lifting stones. Kayak past famous Mt. Kirkjufell in the morning, then speak with volcanologists at the acclaimed Volcano Museum in Stykkishólmur in the afternoon. Don crampons and ice picks to trek on the Snaefellsjokull glacier with expert guides. Then, compare this terrain to the nearby site of Iceland's first "extinct" glacier, and learn why Icelanders foresee a future in which all glaciers might follow this path.
Days 12-13: Reykjavik
Return to Reykjavik, share your capstone project with your group, and enjoy a final celebration dinner together before returning home.
Accommodations:
Students stay in doubles to quadruples in a mix of hostels and small, family-run guesthouses. Leaders have singles in the same locations as students. Breakfasts are often taken on-site, with lunches and dinners out in cafes and restaurants. 
Student Experience: 
Due to the dynamic nature of this summer program abroad, each day is different. Here is a snapshot of what a day in Iceland might look like.
8am Enjoy a delicious breakfast with our guesthouse hosts
9am Explore on foot the hardened lava rock surrounding our accommodations. Get to know the Columbia Climate School experts on your program, and discuss your impressions of Iceland's approach to renewable energy development. 
12pm Have lunch with your group near the Snæfellsjokull Glacier
2pm Walk the rugged coastline between Arnarstapi and Hellnar
5pm Journal, read, work on capstone projects, or relax
6pm Have dinner with your group at our accommodations or a local restaurant
7pm Head to the public baths to soak in the geothermally-heated, mineral-rich water
9pm Group meeting to discuss the day and upcoming schedule
Transportation:
The program will begin in Reykjavik; students will have the option to take an escorted flight from New York City, or join the group at Keflavik International Airport. The group will travel around using public transportation in Reykjavik, and a chartered bus for excursions out of the city. 
Special notes: 
Weather is unpredictable in Iceland, and even in the summer months, cold temperatures and rain are not uncommon. This is a very outdoor-focused program, so students should be prepared to hike for several miles on multiple occasions. 
Questions? 
Have questions about the Columbia Climate School program content or faculty? 
Email us at [email protected]
Have questions about the application process?
Call Putney Student Travel at 802-387-5000 or email us at [email protected]